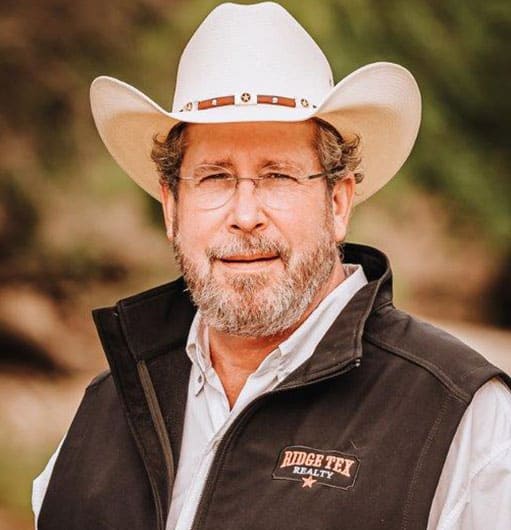 President
Phone Number: (817) 313-0941
Ridge Taylor is a lifelong Stephenville resident and has been in the business of helping others since he was 18. Ridge has been licensed to sell real estate since before he graduated high school. "I've always had the ability to see the forest for the trees," he says, "In other words, see what a ranch can be." Ridge enjoys many aspects of land sales, from finding the dream spot for a family to call their own, discovering a properties history to unearthing artifacts and old homesteads. He and his wife of 31 years, Diane, have 2 children and recently celebrated the addition of 2 grandsons to the family. A land owner himself, some of his favorite things to do in the great outdoors include dove hunting, deer hunting and fishing with his family. Ridge is known to stick with his clients with patience until they find their dream ranch. If he doesn't have it he will find it!
0.62

Acres: 0.62 +/-

County: Comanche

City/State: De Leon, TX

1634147092

1627415280

0

Status:

New Listing

residentialproperty

Residential Property

$235,000

Welcome Home, this home is located on a Huge Corner Lot. Has lots of Mature Trees and a Water Well in back yard Also, of course city water. All...

RANCHO VERDE - NABORS LAKE Comanche TX Comanche De Leon Texas farmshunting landranchesrecreational landresidential propertylakefronthorse propertysingle family

2950000

195

Acres: 195 +/-

County: Comanche

City/State: De Leon, TX

1633464428

1633380158

0

Status:

New Listing

farms huntingland ranches recreationalland residentialproperty lakefront horseproperty singlefamily

FarmsHunting LandRanchesRecreational LandResidential PropertyLakefrontHorse PropertySingle Family

$2,950,000

RANCHO VERDE - NABORS LAKE Thisbeautiful 5-bedroom, 4 bath, 4,700 sq. ft brick home is nestled in the middleof 195 acres just outside of DeLeon, TX. It features...